The American Association for Public Opinion Research's Executive Council announced that sociologist Kristen Olson has been selected as the new editor-in-chief for the Survey Methodology side of the Journal of Survey Statistics and Methodology. She will serve with current editor-in-chief of the Survey Statistics side, Dr. Michael Elliott from the University of Michigan.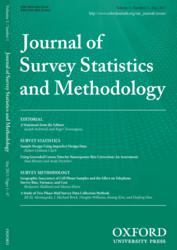 "Dr. Olson will continue the strong tradition of publishing high quality and timely methodological papers in JSSAM," the organization said in a statement. "Additionally, she plans to work to increase the impact of JSSAM by examining the scope of the journal, expanding the types of submissions, developing strategies for disseminating the journal's content via social media, and developing strategies for building a diverse and inclusive pipeline of authors and reviewers.
Olson will start reviewing manuscripts on July 1, and the transition will be finalized by the end of 2020.